If you have never cleaned your ducts, you are most likely living in dirt.  We do not think about the dirt in our HVAC and duct system because we do not see it every day.
Imagine what your home would look like if you did not dust it for three years.  Your tables, your counters, your carpets, your floors, your home decoration items, and Knick knacks would be filthy with dust and decaying contaminants.  Now imagine what that looks like for the entire time you have owned your property.
Imagine taking all your air ducts from your home and stacking them on top of each other in one room.  Would you be able to sit in that room for an hour?  A day?  A year?  We do not think about the dirt accumulating in our ducts because it is out of sight.  But out of sight does not mean it should be out of mind.  Mr. Duct Cleaner knows from firsthand experience that dirt hides in ducts.
According to NADCA (https://nadca.com/homeowners/why-clean-air-ducts), through normal occupation in a home, we generate a lot of contaminants and air pollutants, such as dander, dust, and chemicals. These contaminants are pulled into the HVAC system and re-circulated 5 to 7 times per day, on average. Over time, this re-circulation causes a build-up of contaminants in the ductwork.
According to the AP news, dirty filters let dust, dander, allergens, and mold spores in. So do leaks around duct joints. In a typical six-room home, up to 40 pounds of dirt — including dangerous chemicals and other pollutants — is created annually through everyday living.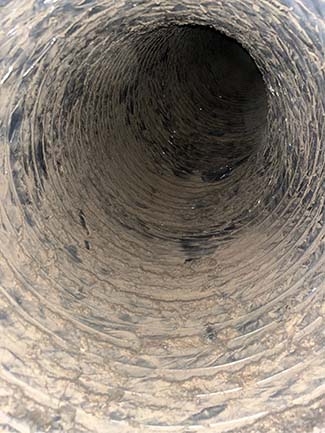 How much dirt has accumulated in your ducts? It depends.  It depends upon the size of your home, and the demand on the air system.  How many people live there? How many people visit there?  How many pets are there?  How many plants live there?  Has there been a special event that has caused more contaminants to circulate? ( major renovation, water damage, fire, etc.)
It costs you nothing to have a Mr. Duct Cleaner trained person give you an estimate on whether your system needs to be cleaned and let you know how much it will cost to have it done by experienced professionals using equipment specifically designed for the work.  We take pictures of our work so you can see the before (yuck) and the after (yeah!).