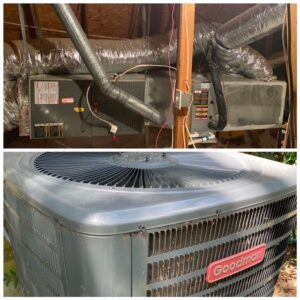 Mr. Duct Cleaner specializes in improving your indoor air quality.  Cleaning your ducts is a good start however, if you clean ONLY the ducts its comparable to mopping half your kitchen floor. Want to clean the other half? Then clean your HVAC unit.  Do not confuse the outside condenser unit in some split systems with your HVAC evaporator coil and blower fan.  Your residential condenser unit typically sits outside.  While keeping this free of debris and gunk can improve your energy efficiency, cleaning the HVAC evaporator coils, plenum and blower fan can improve your indoor air quality.
The HVAC unit typically sits in the attic, a closet upstairs or downstairs, or in smaller spaces "over the tub" or in a hallway.  Sometimes it is the location of the filter, we recommend changing every 3 months.  Mr. Duct Cleaner and NADCA (National Air Duct Cleaners Association) recommend cleaning your ducts and HVAC unit every 3-5 years depending upon the particulars and demand on your HVAC system. If there is someone in your home that has significant allergy sensitivities, asthma, or auto immune issues you may want to have them cleaned more often.
Mr. Duct Cleaner uses equipment designed specifically for duct and HVAC system cleaning.  We do more than just wipe down the outside and use a shop vac.   A specially trained technician arrives at your home, wears booties to protect your surfaces and keep your floors cleaned. They put down plastic to keep any dust accidentally escaping our equipment away from your furniture or belongings.  When completed, we leave your home cleaner than when we began, including the air ducts and the HVAC system.   We specialize in duct cleaning and HVAC system cleaning.
Take the next steps to improved indoor air quality, contact us for your Free estimate.
Do not confuse your condenser with your HVAC unit