Next time you walk into your child's school, look up.  Is there any place where you see a small box attached with a small red button that has writing on it?  Does it look like this?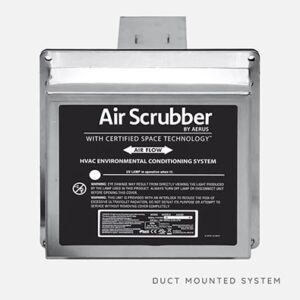 If you see this, Good!  If you do not see anything like this, you should ask the school administrators if there are air scrubbers somewhere that are not visible.
If you do not see an air scrubber, and you see dark specks and growth on the vents, run to that office and ask when the last time the ducts and HVAC system were cleaned and when are they planning to have it done?  Make sure they use a professional provider that is NADCA certified.
Not only is Mr. Duct Cleaner NADCA certified, but our franchisees can also install and maintain Aerus Air Scrubbers.
Aerus Air Scrubbers continuously clean the air that circulates in the building.  The hydrogen peroxide ions (we call the purification warriors) are circulated every time the HVAC system is turned on (even if it is just the fan).  These warriors attach themselves to viruses, including Covid 19, fungal growth, and any other contaminants that are in the air.  They deactivate the contaminants, and they are rendered harmless.  This process all happens within three minutes of the bad particles' introduction into the environment.
The system uses proprietary ActivePure® Technology and has been tested in independent labs and proven effective on bacteria, viruses, mold, and fungi on surfaces and in the air. This technology is based on the air scrubbing system NASA uses for the space station.  The ActivePure® Technology built into each Air Scrubber by Aerus is based on a variation of the technology originally developed for use on the International Space Station and is recognized as the exclusive Certified Space Technology™ in its category.
Benefits include:
Keeping people healthy
Fight Covid and Other Viruses
Cleaner, healthier more comfortable living environment.
PATENTED ActivePure® Cell destroys over 99% of all surface and airborne contaminants
Uses light waves and a catalytic process to produce scrubber ions and hydro peroxides that destroy contaminants on surfaces and in the air
Removes VOCs, odors, dust, pet dander, and other allergens
Installs directly into existing ductwork
Prevents dust build-up in heating and cooling systems
Creates a cleaner and safer environment
Continuously cleans and protects air and surfaces 24/7
Used every day worldwide
Safe for humans and Pets
The Federal government has offered Covid relief money to most public schools.  Make sure that your school has budgeted for the installation of air scrubbers.
Improve your school, and have your school administrators contact Mr. Duct Cleaner for a free estimate.